According to the Senior Loan Officer Opinion Survey on Bank Lending Practices, conducted by the FED in July 2020, 71.2% of the surveyed banks indicated tightening lending standards or reluctance to lend (update from Oct 2020 survey at the end). Even if this was a knee jerk reaction to the sudden shut down of the US economy, this response was remarkable for two key reasons:
The last time credit officers slammed the brakes so hard was during the peak of the credit crisis in 2008. In fact, since the inception of this survey 30 years ago, this is only the second time when more than 70% of respondents indicated tightening credit standards (the peak was in Q4'08 at 83.6% respondents tightening credit).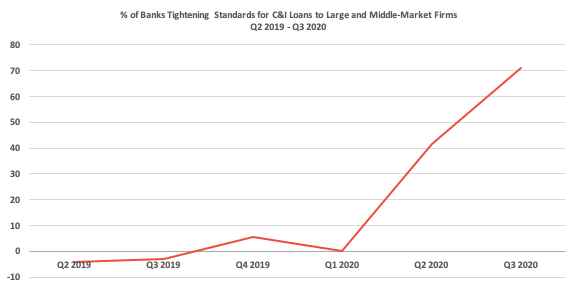 2. Even more remarkable is how quickly NO became the mantra in credit committees (to the uninitiated, a NO from the credit committee for new deals is the most distilled form of "credit tightening"). During the 2008 credit crisis, it took four quarters to get to the peak of credit tightening. In 2020, we are practically at the credit crunch level in less than two quarters.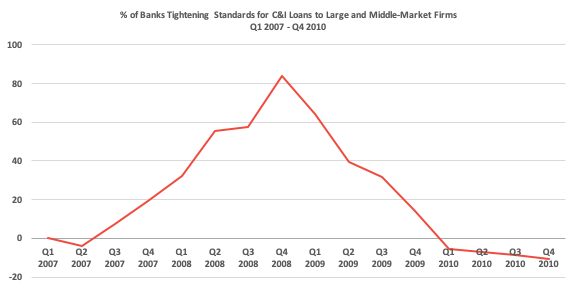 The survey reported that banks increased pricing, demanded interest rate floors, reduced deal size, required more collateral and tried to get better covenant packages. 
These are all reasonable actions considering what led to tighter credit – increasing economic and business uncertainty, reduced competition from banks and non-bank lenders alike and weak secondary liquidity for bank loans. 
However, the key drivers are likely to be deteriorating capital position for banks and lackluster demand for new loans as cited by a large number of respondents. 
So, how is it different this time? Many of my lender friends tell me that they are back in business and markets are as competitive as ever. If they are right, hopefully, the speed of credit easing would match the rate of credit tightening and we will be back to normal before the next survey results are published in a month or so (it took five quarters for normal credit standards to return during the 2008 credit crisis).
However, if the state of credit portfolios, capital position and loan demand are the driving factors, I have to question the optimism of my friends and wonder if we have just witnessed the first inning of the credit tightening process.
There is no doubt that the credit markets have evolved significantly since 2008 – the market now has a deep pool of unregulated capital being efficiently distributed by hundreds of private lenders that can quickly step in to supplement diminishing credit flow from banks.  
Ongoing lending activity will largely depend on return of demand, stabilization of the economy and improving loan portfolios.
However, effects on the portfolio quality, capital position – for banks as well as private lenders, and demand for loans, are really controlled by COVID-19. It is rather strange to declare a virus to be the master of middle-market credit markets, but no amount of stimulus is going to motivate a borrower to restart a shelved capex project without demand visibility, nor will it convince a lender to take the pandemic risk.
Indeed, a supplementary survey of senior loan officers conducted by the FED in September 2020 indicated that the majority of the surveyed banks continued to experience a slower demand for loans since June 2020 – prospects included companies that could have qualified for the PPP, companies that were too large for the PPP or companies that could qualify for the Main Street Lending Program (MSLP).  
While the banks approved about 40% of loan applications they received since mid-June, only 2.5% of the approved loans had qualified under the MSLP. Not surprisingly, only the higher quality borrowers that qualified for the MSLP intended to use the proceeds for expansions and refinancing – a much higher percentage of borrowers wanted to just cover the payroll with the proceeds. 
Interestingly enough, respondents to the survey also reported that a large number of prospects inquiring for the MSLP had access to non-bank loans. This is perhaps the real proof that the private debt sector is stepping up to fill the void left by the tightening bank credit. Nevertheless, ongoing lending activity will largely depend on return of demand, stabilization of the economy and improving loan portfolios. 
October 2020 Update
Results from the same survey conducted in October 2020 indicated continued conservative stance of most banks for C&I lending to middle market and larger firms. While 56.5% of surveyed banks indicated no change in credit standards within the last 3 months, 40.6% indicated somewhat tightening credit standards and only 2.3% of surveyed banks indicated easing credit standards somewhat. Considering the steep tightening by more than 70% of the banks in the second quarter, these results indicate that virtually all surveyed banks have now tightened their credit standards for C&I loans compared to the beginning of the year. 
Not surprisingly, 90%+ surveyed banks blamed uncertain economic outlook and worsening industry-specific problems for their conservative stance. Considering the current surge in the COVID-19 cases across the country, banks will be compelled to see the glass as half-empty for the next few months. This means borrowers are likely to see a continued rise in interest rates, collateral requirements, LIBOR floors, and tighter covenants as reflected in this survey, in addition to more arduous loan approval processes and the need to approach many more lenders to achieve the desired outcome. 
Unfortunately, middle-market CFOs lack the tools to go beyond their networks of local banks.
CAPX is changing this.
CAPX expands your reach nationwide to quickly obtain $5MM – $100MM+ in capital from bank and non-bank lenders.
Schedule a call with us to learn more about how CAPX can help you reach beyond your limited options free of risk or obligation.